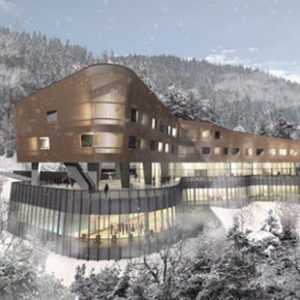 Crystal has finished a tournkey project in Sarajevo, Bosnia. Tarçın Resort is attracting tourists with its beautiful nature and a Crystal clear kitchen.
Situated within the limits of Sarajevo, Bosnia's capital city, Tarcin Forest Resort is located between four beautiful mountains: Bjelasnica, Igman, Ivan and Ormanj. A winding road leads up to the forest and the main hotel complex, comprising a mix of 230 villas, sport and training facilities, restaurants, over 3 km of trails, kids playground, ski terrain and other amenities.
The mountainous terrain provides beautiful views of the surroundings. It is amost entirely covered with deciduous and coniferous forests and a river. The Tarcin Forest area belongs to the Hadzici municipality within the Sarajevo county, and is characterised by two climate types: up to 600m above sea level it is dominated by a continental climate, while above this altitude it is characterised by a continental/ mountain type and alpine climate type. Tarcin lies on an altitude between 700m and 850m above sea level.