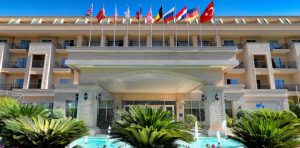 Crystal Industrial has always been a company that values spiritual gains. In order to strengthen the relationship with our partners, we organized a special event on 10, 11, and 13 of November. The purpose was to presentat Crystal Industrial, improve communications between our partners, share international experiences, rest and have fun within our family.
We kicked-off with a reception cocktail party and the event continued with various activities in the following hours. On the second day, our guests visited Crystal Industrial's factory in Antalya and had the opportunity to check first-hand the manufacture of our products. International partners indicated that they appreciate the demonstrated sensitivity of our production chain.
After visiting Galeri Crystal and other Kilit Group businesses, guests joined the evening gala at De Luxe Kemer. Crystal Industrial's general manager Ramazan Kaynakçı commented "We had the opportunity to show our company's product variety and quality to our valuable partners. Thanks to the positive return we have received, we will continue on our way with more powerful steps".
The programme ended on the third day with a yacht tour and barbecue party. De Luxe Kemer Hotel's partners offered shows that left hundreds of guests stunned.