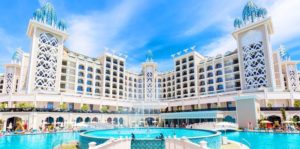 Crystal Industrial has finalized a kitchen project for Granada Luxury Belek. The hotel is located in Belek, one of the most beautiful beaches in Antalya – which has received the title of Capital of Tourism in Turkey.
Granada Luxury Belek has 872 rooms and is surrounded by magnificent nature. Their 15 restaurants and bars are made with Crystal prducts. The hotel also offers a choice of 20 swimming pools, including a mixed water park, and a private 80m sandy beach. Free shuttle service is also available for guests.
Enjoyable activities, beautiful nature and with Exclusive Hospitality slogan, it gives unlimited services and unforgetable memories to their guests.
Antalya is undoubtedly one of the world's most beautiful place. Explore it while staying at Granada Luxury Belek.