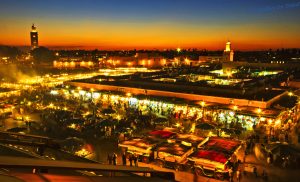 Morocco is a diverse country, home to majestic palaces, interesting museums, mouth-watering cuisine and large expanses of stunning natural landscapes. It has been ranked first in terms of touristic arrivals in Africa and now welcomes our brand Crystal.
In the world-known city of Casablanca, our project team has successfully set up Crystal's open buffet equipments for the Grand Mogador City Center – one of the best addresses in the city. The hotel is well-located and features an amazing architecture.
Morocco is one of our target markets and we truly believe that our services and expertise will leave a great and lasting impact in the development of the country's food and beverage sector – especially in the tourism industry.
We would like to thank our Moroccan partners for their professional work, as well as our client who trusted our brand.
Good to Know
If you're willing to visit Morocco, make sure that your travel plans include a stop in Marrakech, the mysterious Red city that has been rated the world's best destination – with Paris ranking 9th, London 6th, and Istanbul 3rd.
The best way to describe it is: fantastic place to explore, rich in history and culture, bright colors and striking sunsets. It is a truly unforgettable experience.