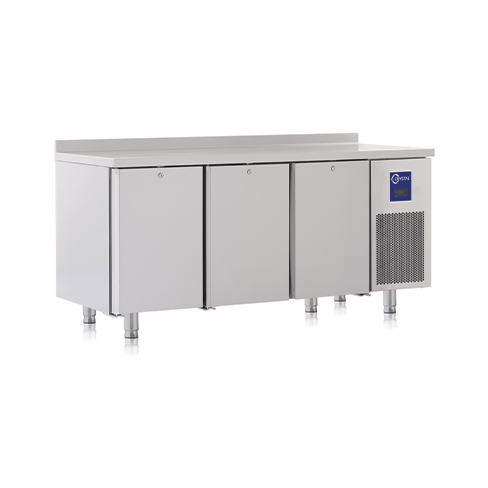 ECONOMIC RANGE THREE DOOR REFRIGERATORS
DESCRIPTION
Exterior and interior stainless steel (AISI 430).
CFC free, high pressure injection polyurethane insulation in 50 mm thickness and 42kg/m³.
Hygienic and ergonomic Interior custom design.
Air managing system which provides inside refrigeration balance.
High class energy saving design.
Monoblock refrigeration group which allows easy access and wider usage area.
Fan refrigeration system.
Ergonomic doors.
Auto defrost with heating element.



INTERIOR TEMP. (C°)
-2 / +8
DIMENSION (mm)
1770 x 600 x 850
PACKING DIM. (mm)
1830 x 660 x 1000
INTERIOR TEMP. (C°)
-10 / -22
DIMENSION (mm)
1770 x 600 x 850
PACKING DIM. (mm)
1830 x 660 x 1000
INTERIOR TEMP. (C°)
-2 / +8
DIMENSION (mm)
1770 x 700 x 850
PACKING DIM. (mm)
1830 x 760 x 1000
INTERIOR TEMP. (C°)
-10 / -22
DIMENSION (mm)
1770 x 700 x 850
PACKING DIM. (mm)
1830 x 760 x 1000
INTERIOR TEMP. (C°)
-2 / +8
DIMENSION (mm)
1770 x 600 x 850
PACKING DIM. (mm)
1830 x 660 x 1000
INTERIOR TEMP. (C°)
-10 / -22
DIMENSION (mm)
1770 x 600 x 850
PACKING DIM. (mm)
1830 x 660 x 1000
INTERIOR TEMP. (C°)
-2 / +8
DIMENSION (mm)
1770 x 700 x 850
PACKING DIM. (mm)
1830 x 760 x 1000
INTERIOR TEMP. (C°)
-2 / +8
DIMENSION (mm)
1770 x 700 x 850
PACKING DIM. (mm)
1830 x 760 x 1000
INTERIOR TEMP. (C°)
-10 / -22
DIMENSION (mm)
1770 x 700 x 850
PACKING DIM. (mm)
1830 x 760 x 1000