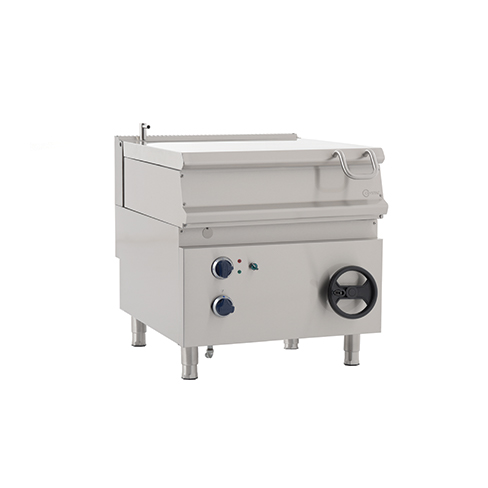 GAS TILTING PAN | 80
DESCRIPTION
• 10 mm thickness cooking base is made of AISI 304 stainless steel
• High performance stainless steel burner
• Double-skinned top cover provides good insulation
• An ergonomic stainless steel handle is used.
• Easy emptying with manual lifting mechanism.
• Appliance could be used with natural gas or LPG. Gas nozzles also put in appliance package for conversion.
• When you turned the button on the panel, it opens the solenoid valve , and the water inlet on the upper table is filled the tank with water.
• High flame burner provides uniform heat distribution on cooking surface.
• Ignition occurs automatically when the gas switch is in the ignition position.
• 50-300 °C thermostat for heat control
• The safety thermostat (limiter) protects the device and the resistance by cutting off the circuit at high temperatures if the thermostat is disabled.
• During in operation, the burner goes out when the pan is lifted up and the burner automatically goes on when the pan is lifted down
• Compliance with CE standards and directives.



DIMENSION (MM)
800x900x850
PACKING DIM. (MM)
850x1000x1070
Consumption NG (m³/h)-LPG (kg/h)
1,90 – 1,41