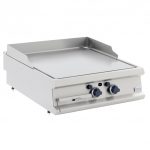 FRY TOP | 80
DESCRIPTION
Stainless steel (AISI 304) top table with a thickness of 2 mm.
6 pieces of stainless steel long lasting resistances with 1,25 kW power each.
Satin steel flat tempered plate iron with a thickness of 15 mm. Fully ribbed or semi ribbed options are available.
Special design control buttons prevent water leakage into the panel.
The side edges are terminated at right angles.
As there is no gap when the two devices come side by side, so there is no hygiene problem.
The stainless steel guard prevents oil splashing.
The oil collection reservoir can be removed and emptied easily.
The heating equipments located below the plate provide equal heat distribution.
Waste oil groove and bleed pipe are make it easy to clean.
Adjustable plate temperature between 50-300 °C.
Can be used as set top, be installed on a lower cabinet or in a cantilever.
Manufactured in compliance with CE regulations.
DIMENSION (mm)
800 x 900 x 250
PACKING DIM. (mm)
840 x 990 x 470
VOLTAGE (V/HZ)
400 V 3 N-PE 50/60